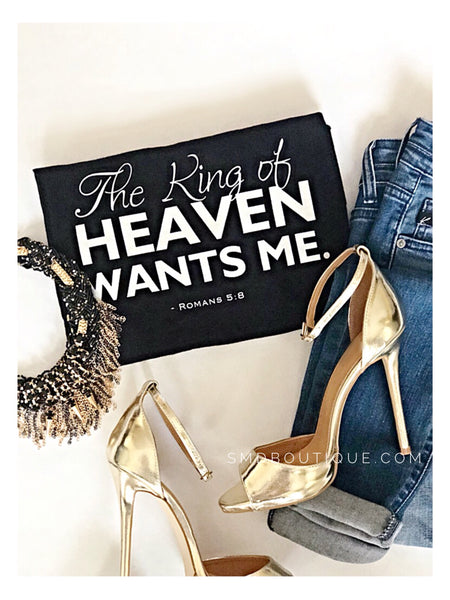 King Of Heaven
'But God Demonstrates HIS Own LoVE For Us In This: While We Were Still Sinners, Christ Died For Us'
- Romans 5:8
The King Of Heaven Truly Wants A Relationship With Us, Even At Our Darkest, HE Still LoVES Us That HE Gave HIS Son Jesus To Die For Our Sins So That We May Have An Eternal Life With HIM In Heaven.
Exclusive Design Only Available In The Boutique.
Soft Fabric. Scoop Neckline. Runs TTS. Made Of 100% Ringspun Cotton. Lightweight Fabric | 4.5 Oz. Image Is Screen Printed On | NO Vinyl.
Available In [3] Color Options:
• Black Shirt - White Lettering
•Grey Shirt - Black Lettering
• White Shirt - Black Lettering
[Picture Shown Is The Black|White Shirt]
Standard Unisex Fit

I Wear Small Fitted Or Medium Casual 
[  5'05 • 165 • 38D ]